Click HERE to purchase your own Check21 VPOS Gateway in just 10 minutes!
| | | |
| --- | --- | --- |
| Monthly Fees: Zero | Transaction Fees: Zero | Merchant Discount Fees: 0.95% |
Boost Your Business in Your Office or on The Road
Your Check21 VPOS Gateway Will Work Perfectly on Both Your Cellphone or DeskTop Computer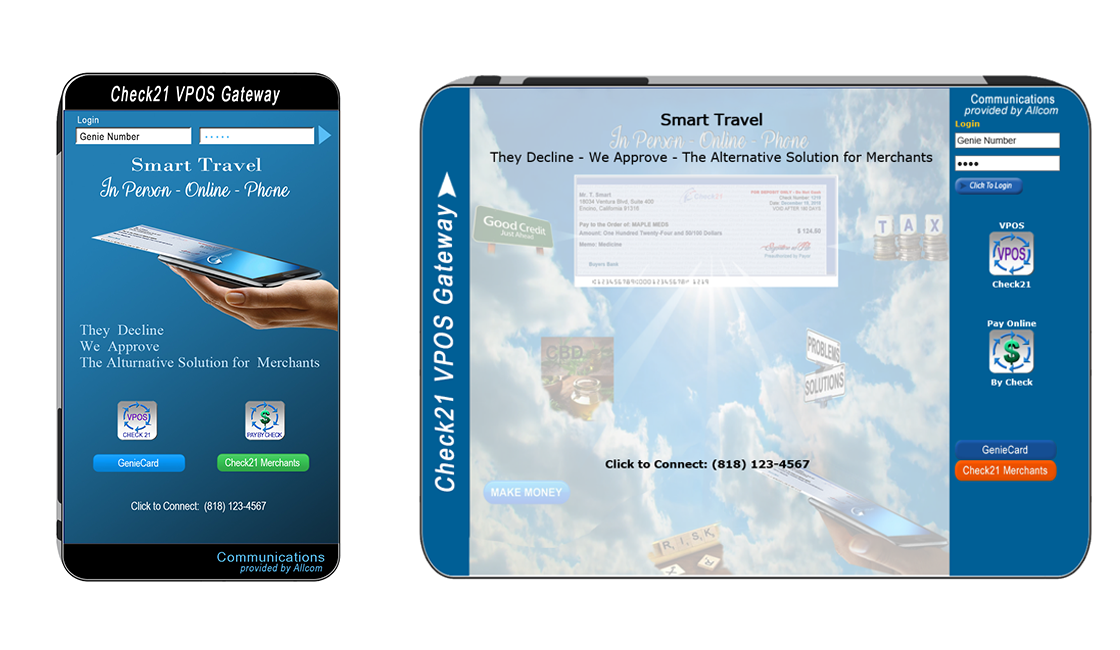 *Merchants referring other Merchants to purchase a Check21 Gateway will earn a: 0.25% Residual Commission of on all their new payments processed.
Some customers still like to use traditional checks, but to save time and money new technology has allowed those paper checks to be converted into a digital version known as Check21. This is a fast, secure, and efficient way to offer an additional payment option to merchants while saving on transaction fees that are higher when accepting debit and credit cards.
Check21 is the new way for you to receive payments for all your goods and services! Get Real-Time processing AND payment, 24x7x365, from any customer with a valid US checking account – whether they buy in person, online, or by phone.
Our Check21 service includes your own personalized Check21 Gateway where you can process your payments anytime.
Click Here to see a sample of a Check21 VPOS Gateway